TEAC PD-301 – CD Player/FM Tuner
The TEAC PD-301-X CD Player/FM Tuner is a combination product in the Reference 301 range, comprising a CD player, USB memory player and FM tuner, and provides a versatile digital media gateway for your existing desk-top audio system.
Thanks to its painstakingly developed circuit design, the PD-301-X delivers superb analogue audio sound to your amplifier, while the coaxial and optical outputs deliver digital audio signals to your favorite DAC (digital to analogue converter), not only from CD and USB memory sticks but also from the FM tuner.
Thanks to its low-profile and small footprint design, the PD-301-X greatly expands the flexibility of your desktop audio system.
A slot-in drive mechanism, which has a record of use in professional equipment, is used for the crucial CD player drive. Not only can you use this unit as a simple high-quality CD player, you can also use it as a CD transport in combination with a separate D/A converter connected to its coaxial or optical digital output. In addition, WAV, AAC, MP3 and WMA files can be played back from USB flash drives connected to the USB port on the front of the unit. Moreover, the built-in FM tuner supports RDS.
Furthermore, used in combination with an AI-301DA pre-main amplifier from the 301 Reference Series, you can create a compact desktop audio system that allows you to play high-resolution audio from a computer, listen to radio, and even enjoy wireless playback of high-quality audio from a smartphone or tablet with Bluetooth® that supports aptX®.
Main functions
High-precision slot-in CD drive mechanism with Quick-loading and Automatic Playback
Supports CD-DA, MP3 and WMA files on CD-ROM/R/RW discs
Front USB Port for WAV, AAC, MP3 and WMA Playback
Built-in FM tuner supports RDS (RDS for UK/Europe model only)
PD-301DAB incl. DAB tuner
All-aluminum enclosure provides both vibration resistance and a stylish appearance
At only 215 mm wide and 61 mm high, the compact size increases freedom of placement.
Slot-loading CD drive mechanism enables quick loading and automatic playback
The CD drive utilizes a compact high-precision slot-loading CD drive mechanism. The drive, designed especially for audio with a record of professional use, loads quickly for instant playback. The automatic playback function, which automatically starts playback after a CD is loaded, allows you to enjoy music soon after inserting the CD into the slot.
Supports playback of MP3, WMA, AAC and WAV files
WAV (USB only), AAC (USB only), MP3 and WMA files can be played back from USB flash drives and CD-R and CD-RW discs. The song name and artist can be shown on the unit's display during playback of MP3, WMA and AAC files (assuming files have ID3 tags.)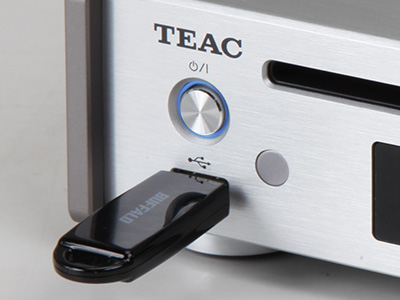 Digital audio outputs for all sources, including FM
In addition to conventional analogue audio outputs, audio signals from the PD-301-X's built-in FM tuner are also delivered from the digital audio outputs, via both the coaxial and optical connectors (of course, these connections also deliver digital audio from CD).
Please note that the digital audio output format is PCM 44.1kHz/16-bit, regardless of the resolution of the original source.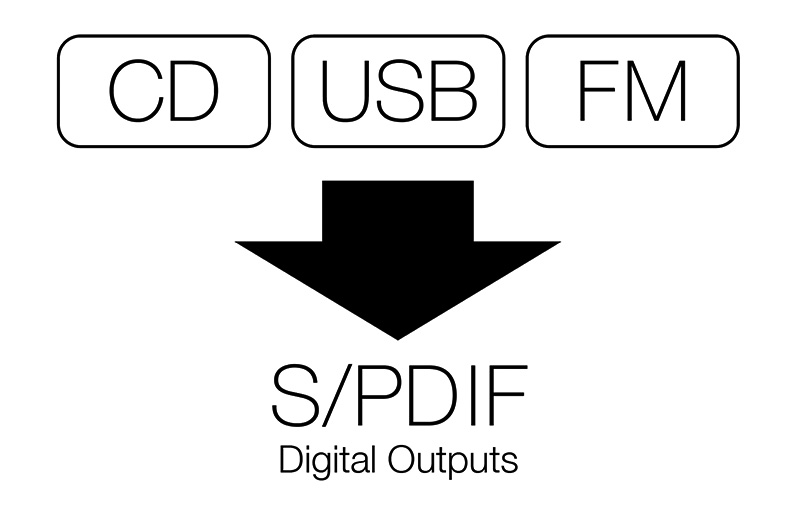 High-precision Digital-to-Analog audio converters
A Burr-Brown PCM5142 D/A converter, made by Texas Instruments, is used to convert the digital audio signals read from CDs and USB flash drives to analog.This D/A converter has a reputation for rich, smooth audio performance, to make your CDs sound great.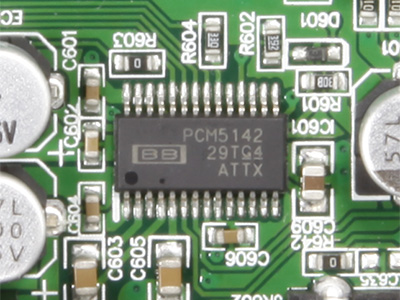 Coaxial and optical digital outputs also allow digital output of FM broadcasts
In addition to analog outputs, coaxial and optical S/PDIF outputs are included for pure digital connection. Plug the output into an AI-301DA, UD-301 or other component with S/PDIF digital input for lossless digital playback. Plug in a D/A converter with even higher precision to upgrade your CD playback to greater audio quality. Even the FM radio tuner can also be output as S/PDIF digital signal.
(Note: Digital output is at 44.1 kHz/16-bit regardless of the playback format and source.)
Built-in FM Tuner
Unlike most other CD Players, the PD-301-X also features a FM Tuner module within its compact cabinet.
Solid aluminum body and compact installation space
While maintaining the elegance of a traditionally styled hi-fi component, the all-metal chassis provides a solid body with excellent vibration control, minimizing the effect of vibrations on audio quality. With the 501 Series, we advanced the concept of compact high-performance audio devices that can be placed even on desktops, and we have further developed this with the 301 Series. The body, which has been restricted to a width of 215 mm, enables even greater freedom of placement.
Included wireless remote control with number pad
The included remote control with a number pad that is convenient for selecting tracks is included. The AI-301DA remote can also control the basic functions of the PD-301.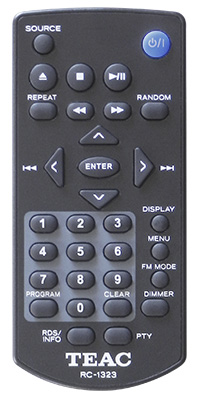 System configurations:
Combine with an AI-301DA and LS-301 speakers to create a compact Hi-Res system
The PD-301 can be combined with an AI-301DA pre-main amplifier (also from the 301 Reference Series) that has a USB DAC and allows aptX® Bluetooth input. Together they form a compact high-resolution system that allows USB audio input from a computer and wireless playback from smartphones and tablets while also supporting CDs and USB flash drives as well as a wide range of FM frequencies.

[
Combine with a UD-301 for a high-precision CD player system
By connecting this model digitally to a UD-301, which is a USB DAC with a dual mono structure in the same 301 Reference Series, you can upconvert the PCM 44.1kHz/16-bit digital data of your CDs to 192 kHz. By conducting D/A processing after converting to a higher-precision digital signal, a smoother analog signal can be output.
Furthermore, in addition to RCA unbalanced outputs, the UD-301 has XLR balanced outputs, so it is possible to incorporate it into a more advanced system with a hi-fi amplifier that has balanced inputs.

Features at-a-glance
Slot-loading CD drive (CD-DA, CD-ROM/R/RW)
Automatic playback (on/off switchable)
Playback of WAV, AAC, MP3 and WMA files from CDs and USB flash drives
Program playback (CD DA only)
Random and repeat playback (CD DA only)
File ID3 tag data display (song and artist names)
Switchable folder and file browsing mode
USB-A input connector (for playback of files from USB flash drives)
One coaxial digital output connector
One optical digital output connector
One RCA stereo line output connector pair
Compact dedicated remote control included
Inverted-F antenna connector for FM radio
FM tuner supports RDS (UK/Europe model only)
All-aluminum enclosure
Automatic power saving (on/off switchable)